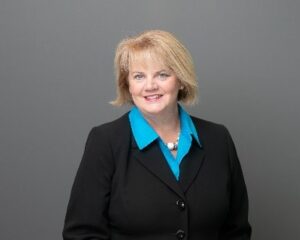 Glenda Ouellette
Glenda Ouellette is passionate about enabling people to achieve their unique potential. She first became involved with cadets in 2010 when both her sons joined the program; her oldest joined Army Cadets while her youngest joined Air Cadets.  Since that time Glenda, has been impressed with the knowledge, skills, and leadership abilities the cadet program provides to Canada's youth.  
Glenda volunteers with the Army Cadet League of Canada where she has been a Board Member and Treasurer since April 2019.  She previously volunteered in an advisory capacity to the League as Vice-Chair National Finance Advisory Committee (2017-19) and Chair, National Budget Advisory Committee (2015-17).  Also, she currently volunteers with the Duke of Edinburgh's International Award Program – BC/Yukon Local Council. 
Glenda previously volunteered on the boards of several not-for-profit organizations including the Insurance Institute of Canada, the Insurance Institute of British Columbia, 2277 Seaforth Highlanders Royal Canadian Army Cadet Corps, 746 Lightning Hawk Royal Canadian Air Cadet Squadron, the Duke of Edinburgh's International Award Program – Canada, and the Fraser Valley Society for Children with Learning Disabilities (DBA: James Cameron School). 
Glenda holds a Bachelor of Arts from McGill University, a Master of Business Administration from Queen's University, and is a Fellow Chartered Insurance Professional with the Insurance Institute of Canada.  She also completed "Get On Board", a Director Education Program provided by the Canadian Board Diversity Council.   
In 2021, Glenda was honoured to be presented the Insurance Institute of Canada's CIP Society National Leadership Award for "Established Leader". In 2018, Glenda received the prestigious Award of Merit from the Insurance Institute of Canada for her outstanding service to that organization. 
Glenda resides with her husband, Bruno, in Lindell Beach, British Columbia.