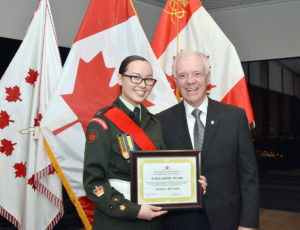 The Army Cadet League of Canada (ACLC) and The Young Citizens Foundation (YCF) congratulate Cadet Colour Sergeant Miasya Bulger from Ottawa, ON, and a member of the 2784 Governor General's Foot Guards Royal Canadian Army Cadet Corps, who has recently been named the recipient of the $5,000.00 Young Citizens Foundation (YCF) Scholarship.
As an Army Cadet since 2013, Miasya has proven to be an outstanding individual and the best candidate in 2018 to win this scholarship.  Cadet Bulger has demonstrated great skill and professionalism during her career as an Army Cadet, which gave her the confidence to excel within the Army Cadet program.  Her achievements have made her stand out at her corps where she has earned a few of the prestigious cadet medals and her dedication to her community has helped her progress through Duke of Edinburgh program.
Not only has Miasya excelled as an Army Cadet, she has also gained quite an honourable reputation within her scholar environment, and from that she plans on applying herself diligently to her studies and life at university.  Miasya's field of specialty is sciences and is preparing to attend Queen's University in Kingston in the Biomedical Computing (BMC) program in the Fall. "I have always been fascinated by human biology and engineering. As a result, my dream field of study would allow me to apply physics concepts to healthcare", Miasya states of her choice of field of study. "While at Queen's I would be surrounded by other high-achieving, conscientious students who would share my desire to explore the forefront of technological innovations and shape the future. In this environment, I would collaborate with a multidisciplinary team to find innovative solutions to help treat patients," she adds. While Miasya plans to focus on her academic results, she also has plans to take advantage of everything university life can offer.  "I truly plan on immersing myself in enrichment opportunities and student clubs in order to become a future leader in the field of BMC."  As a well-rounded young woman and all the life skills her cadet experience has provided, Miasya will no doubt achieve everything she sets out to accomplish.
"The Young Citizens Foundation is proud to partner with The Army Cadet League of Canada in promoting citizenship among Canada's youth", says Mr. Gary Bennett, President of The Young Citizens Foundation.   "It is critically important for our collective future that these young Canadians, who have experienced the benefits of participating in the Army Cadet program, further their formal education so that they may have a better opportunity to take on positions of leadership in our future."
The mission of The Young Citizens Foundation is to assist young Canadians to grow and mature as committed, knowledgeable and contributing Canadian citizens. The Foundation achieves this objective by encouraging young Canadians to participate in development programs operated by nationally recognized organizations that provide life-learning opportunities for our youth, which will significantly influence and benefit their development as committed Canadian citizens. For more information about the YCF, visit www.youngcitizensfoundation.ca