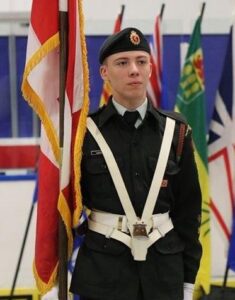 (Ottawa)- August 2021 – The Army Cadet League of Canada (ACLC), the Royal Canadian Legion (RCL) Dominion Command are pleased to announce that Canada's outstanding Army Cadet and recipient of the 2021 General Walsh Commemorative Sword is Cadet Master Warrant Officer (MWO) Tomas Lacroix of Lévis, QC and member of the 2820 Des Chutes-de-la-Chaudière, Royal Canadian Army Cadet Corps.  An official award presentation ceremony will be organized by the Quebec Branch of the ACLC at an appropriate time.
The General Walsh Memorial Sword is the highest national award for any Army Cadet. The award was created by the ACLC in honour of Lieutenant General Geoffrey Walsh, CBE, DSO, CD, who served as Colonel Command of the Army Cadets and is a founding member of the ACLC.  In 2004, The Royal Canadian Legion established an award for "Outstanding Cadets" selected from each of the three cadet elements, Sea, Army and Air. In 2005, it was decided to combine the two awards.
Cadet Lacroix is a recipient of the Royal Canadian Legion Cadet Medal of Excellence, the Army Cadet Service Medal, and has the highly coveted Lord Strathcona medal in his sight for the upcoming 2021-2022 training year.  As a high achiever within the cadet program, he had set out to become the President's trophy recipient as the best Army Cadet of his province.  As the recipient of the provincial award, he qualified as one of the 13 candidates for the title as  Canada's Outstanding Army Cadet.
His CO, Major Joane Chevalier, CD, says of Cadet Lacroix: "I particularly appreciate his constant enthusiasm and his cheerful temperament which shows that he  is a senior cadet determined to achieve his goals."  The Vice-president of the corps Support Committee also adds: "C/MWO Lacroix is an ideal reflection of what strength, leadership, perseverance, and self-accomplishment represent."
Setting aside his overall remarkable performance as a cadet, a strong sense of initiative and leadership, Cadet Lacroix also demonstrates a long list of aptitudes and qualities that make him an excellent Army Cadet Ambassador.  Outside of cadets, Tomas is heavily involved within his community, especially in helping senior citizens during the COVID-19 pandemic.  Tomas also performs well in a highly competitive setting as one of the best speed skaters in his region.  He qualified to participate at the Junior Canadian Speed Skating Championship, which was to take place in Vancouver in March 2020.
"We congratulate Cadet MWO Lacroix for this latest achievement," says Bruce Julian, Dominion President of The Royal Canadian Legion. "His demonstrated service and overall dedication as a Cadet, athlete and as a Legion member, reflects his commitment to personal excellence. We wish him well in the future."
Cadet Lacroix demonstrates all the attributes of a well-rounded individual, which is the essence of this award and recognition. While COVID public health measures may limit his participation in person, Cadet Lacroix may be called upon to represent Army Cadets in some events throughout this upcoming training year.
For more information about this award and other ACLC awards and scholarship opportunities, visit: https://www.armycadetleague.ca/awards-grants-and-bursaries/