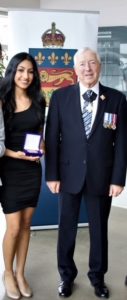 Her story…
Cadet Sergeant, Karen Martinez, Cadet Corps (CC)-2644 Régiment de Hull
In 2014, three years after she arrived in Canada from her native Columbia, young Karen Martinez, who was then 13 years old, decided to join the Army Cadets. CC-2644, located in Gatineau/Hull, welcomed her into its ranks, which are composed of around 120 youths aged 12 to 18.
At first, she is very reserved but quick to distinguish herself through the quality of her involvement in CC's various activities, including the drill team and flag party. Over the last three summers, she earned a spot at two-week, three-week and six-week camps at the Valcartier Base. That was when she specialized in the area of ''drill, leadership and ceremonial''. Last summer, at the six-week camp, she achieved high honours among the 2500 cadets at the camp and received the ''Cadet par Excellence'' award. She was also awarded the Army, Navy and Airforce Veterans in Canada (ANAVETS) medal.
Karen doesn't hesitate to say that, ''…without the Cadets, I wouldn't have known how to push myself to new limits and become involved in the society into which I had just barely integrated.''
This confidence and self-assurance have allowed her to become heavily involved in her school environment and the community through organizations such as Tel-Jeune, OXFAM-Quebec, Moisson Outaouais, the Foyer du Bonheur nursing home, etc. This involvement most recently earned her the Lieutenant Governor's Youth Medal (bronze).
In April, she represented Outaouais with her teammate at the Canada-Wide Science Fair, where they earned themselves a spot at the finals among 465 other projects. She developed a project contributing to the blue economy. On May 12, at the CC-2644 end of year parade, she was awarded the Royal Canadian Legion Cadet Medal of Excellence as well as the prize for best junior non-commissioned officer in 2018!
This summer she will work as a staff cadet at Valcartier, where she will continue to lead and inspire other youths to achieve their best.
As she reflected on her achievements, she commented, "I would also like to emphasize that the Cadets have allowed me to have confidence in myself and be unafraid to speak, to express my opinion regardless of what others might think of me, to be a leader without having to be the best, but a leader who is positive and there for others, who always gives their best in everything – this is how one succeeds. This is why I've been successful in several fields. I never would have believed that I would reach this point, but with effort everything is possible!"
Captain Isabelle Voyer, the commander of CC-2644, has nothing but praise for Cadet Sergeant Karen Martinez and describes her as follows: "She represents what we appreciate most in our wonderful youth movement: a young person who is flourishing and discovering the thousands of possibilities available to her, her appetite for dedication, and the importance and impact of social involvement. Our Cadet Corps welcomes many new Canadians and our contribution to the success of their integration is extremely rewarding and affirms to us that there is hope in the future."