Ever since these two cousins could talk, there was always a friendly rivalry.  Jevin is the son of RMC ex-Cadet 17916 James Ronholm, and Lucien is the son of his brother 18890 Captain (Retd) Richard Ronholm, CD.  Jim and Rick had their own brotherly rivalry, as one joined the RCAF and one joined the Army with both starting their careers at the Royal Military College.  With Rick serving in the Regular Force it was inevitable the cousins would be separated, and after a stint overseas with a short return to Ontario, there was a retirement posting to British Columbia for Richard where Lucien could grow up surrounded by downhill skiing opportunities.  I also looked forward to sharing the mountain adventures I was blessed with,   growing up in the Fraser Valley.  With James retired from military service, Jevin was fortunate to be able to remain on his maternal family homestead in Pevensey Ontario, and claim a single address for his whole life so far.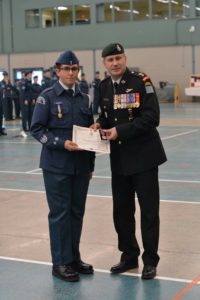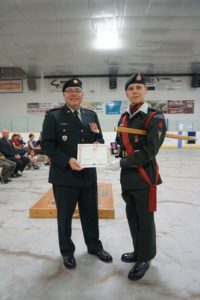 So it was from these two provinces these cousins grew up and banter ensued.  Ironically, Jevin ended up joining the Army Cadet program with a keen interest in marksmanship and Expedition Training, while Lucien joined the Air Cadet program with his interest in flying and aerospace engineering.  Even though both families have their own distinctive military careers, we have always guided the lads to follow their interests and build upon their personal strengths.
There are lots of common aspects to both the Army Cadet program and the Air Cadet program, but also enough differences to develop a healthy rivalry.  Over the years I have heard the merits of Air versus Army drill, dress, deportment and training respectfully debated with typical playful jibes.  Perhaps if there had been more face to face contact, the debates may have been more serious, but it was always nice to hear the conversations remaining respectful of each other's choices with just a slight undertone of competition.  I believe it also gave them a better perspective on how many awesome opportunities the Cadet Program can provide for each element.
In their senior leadership years as qualified Master Cadets they have continued to excel in the respective cadet units.  Jevin is eight months older than Lucien, and it always seemed like that was how far apart their promotions occurred.  But now this year they are finishing off the cadet training year at the same equivalent ranks, and "who is the best Cadet" was a tight race.  Judging from comments received from unit staff, both of them have been in key leadership roles within their units, excelling in field training, marksmanship and instructional ability.  However, despite being in two different provinces and two different elements, who is the best was finally determined this year at their unit Annual Ceremonial Reviews….drum roll….
Amazingly, the selection boards at 3133 RC(Army)CC in Burks Falls Ontario, and 147 RC(Air)CS in Chilliwack, BC selected them for the highest award available to a Cadet and BOTH were each awarded the Lord Strathcona Medal (LSM) at their unit Annual Ceremonial Reviews!
So it truly is a good thing that they get along so well, because if there ever was a "race", it is still on.  Soon they will both be off to post-secondary institutions, with Jevin pursuing Mathematics & Physics  at Trent University, and Lucien planning to follow his father's legacy and attend the Royal Military College of Canada for a degree in Aeronautical Engineering.
The Ronholm families are all very proud of what fine lads Jevin and Lucien have grown in to, and grateful for the opportunities provided by the Cadet Program to highly develop their physical fitness and provide a firm foundation of leadership skills to take them into adulthood.
Submitted by
Captain Sam Ronholm, CD
Staff Officer
2587 RC(Army)CC