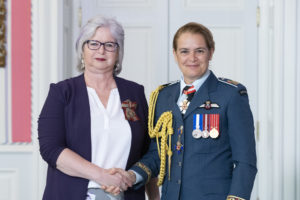 Congratulations to Linda Wall, President of the ACLC Manitoba Branch, as she was presented the Sovereign's Medal for Volunteers by the Governor General, The honourable Julie Payette, at Ridean Hall on June 13th.
Linda was recognized not only for her hard work in support of the Royal Canadian Army Cadets and at the local, provincial and national levels of the ACLC executive committees and her work with a variety of other volunteer organizations throughout Ontario and Manitoba.
The Sovereign's Medal for Volunteers was initially conceived as the Governor General's Caring Canadian Award in 1995.  In 2015, the award was replaced by the Sovereign's Medal for Volunteers.  The medal is awarded to:
Any living person who is a Canadian citizen and who has made significant, sustained and unpaid contributions to their community in Canada or abroad is eligible. Candidates must have demonstrated an exemplary commitment through their dedicated volunteerism.
 In 2019, The Army Cadet League of Canada (National Office), having fulfilled the necessary requirements, achieved Trusted Partner status for the purpose of nominating individuals for the Sovereign's Medal of Volunteers.
Trusted Partner status allows the Army Cadet League of Canada to streamline the nomination process, reduce administration and speed up the awarding.  It must be noted that Support Committees and Branches must not submit nominations directly to the Chancellery of Honours as this could nullify the Army Cadet League of Canada's trusted partner status.  The key to the trusted partner program's success is maintaining entity, one direct point of contact, with the Chancellery of Honours.
Do you know a deserving individual in your community?
For more information, refer to policy 13.20 here https://www.armycadetleague.ca/awards-grants-and-bursaries/